Trains and villages aren't just for Christmas anymore! - Since companies like Hawthorne Village® /a>and Department 56® brought Christmas villages and trains back into style, many people have been sad to see their collectibles go back into the box after New Years'. Now they don't have to. Hawthorne Village® and affiliated companies have introduced villages and trains that can be used every month of the year.

Most of the products on this page are available by subscription, which means that you sign up for them like you would a magazine and get a package about every four weeks for the next four months. For more information on subscription trains, please refer to the "About Subscription Trains" article. The accessory packages, however, are sold as single-purchase packages.

All of the trains on this page are On30 in scale, just the right size for Holiday villages by companies like Hawthorne Village®, Dept. 56® and Lemax. That means that these trains are almost as big as the Lionel trains®, but they run on Bachmann HO gauge EZ-Track, which you can fit almost anywhere. Every train is exquisitely detailed and warranteed for one year against manufacturing defects by Hawthorne Village®. The mechanical parts of each train are manufactured and warranteed by the Bachmann company, the world's largest model railroad manufacturer, so parts, service, and accessories will always be available.

Update for 2014: The good news is that the three great On30 trains that were on this page last are still available. So is the Thomas Kinkade Lamplight Village, an all-time favorite. The bad news is that Bradford Exchange has not replaced the sets that went out of stock last year. I am also concerned that the Thomas Kinkade "End of a Perfect Day" train and "Spirit of Ireland" train may be approaching the end of their run. Several years ago, Bradford Exchange offered villages and accessories just to go with these trains. But those have all reached the end of their run. Ordinarily, Bradford Exchange will start a new series if there are a lot of trains left when the accessories and villages associated with the train run out. But they haven't.

Seasonal trains that are not tied to Christmas are a relatively small market anyway; it may be that Bradford Exchange is shifting their focus away from this market. So if you like the town or any of the trains on this page, don't wait too long.

Also, there are still nice fall and winter trains, but if you want to run a train with a spring or summer village, you may have better luck checking out the On30 and O gauge train sets on our BIGTrainStore.com site. In the meantime, I will keep checking Bradford Exchange's new offereings in case something else that belongs here shows up.

Note about Suppliers: While we try to help you get the products you want by recommending suppliers with a good record of customer service, all transactions between you and the supplier you chose to provide your trains are governed by the published policies on the supplier's web site. So please print off any order confirmation screens and save copies of invoices, etc., so you can contact the appropriate supplier should any problems occur. (They almost never do, but you want to be on the safe side.)

So take a good look now at the wonderful products available, and decide for yourself if you need to stop enjoying your collectibles just because Christmas is over.

Because these come and go so quickly, and demand has been so high, we've set up a separate site for them, our Halloween Trains and Towns site. The site includes, not only commercial products, but links to many Halloween-themed projects and resources you will enjoy using to make your own Halloween railroad or display village unique.
---
Irish Blessings Express Train Set Shines with the Warm Spirit of Ireland! An Exclusive Heirloom-quality Irish Collectible! - Ride the rolling emerald green hills, lush meadows and misty glens of Ireland on the Irish Blessings Express Train! Each car is graced with the breathtaking landscape art of Irish artist Edmund Sullivan. Adorned with traditional Irish-themed accents, like shamrocks, Irish flags, golden Claddaghs, and the words of the cherished Irish blessing - "May the Road Rise Up to Meet You." In addition, every window of this limited-edition Irish On30 scale collectible express train set lights up with a welcoming Irish glow. FREE nickel silver 16-piece track set and power-pack - a $60 value! Click on the link below to purchase or for more information.
Stroll the Lamplit Streets with Thomas Kinkade - The romantic vision of Thomas Kinkade transports you to a radiant place where enchanting lamplights glow like luminous pearls on flower-lined paths. Warm lights stream from cozy cottages, welcoming you home.This is a landmark collection and a great value because you get free accessories and figurines, a $75 Value - FREE! One of those figurines is a NEW, exclusive, figurine of Thomas Kinkade! And, this is a convenient Subscription Plan so you're sure of getting every piece and there's no risk of a future price increase. Mr. Kinkade's villages are incredibly popular, don't be disappointed. Click on the link below to purchase or for more information.
Enjoy the Lazy Days of Summer in Your Seaside Village Display - These fishermen, their boat, and mooring docks will bring more life to any display village, especially the Thomas Kinkade Seaside Village above. Fish from the sandy shore or on the pier near their boat - wherever they are, you'll all have a grand time! These exclusive hand-crafted Hawthorne Village collectible accessories are hand-painted with rigorous attention to detail, adding animated drama to your village for years to come. They're quite popular, so order now! Click on the link below to purchase or for more information.
---
---
If you've visited any of our Big Christmas Trains pages, you know that we list Christmas trains and villages of all shapes and sizes. The products in this section are decorated for winter, but not for Christmas. Sure, they look great with Christmas trains and villages, but after the Christmas tree comes down you can still celebrate winter's frosty charms with these fine products.
---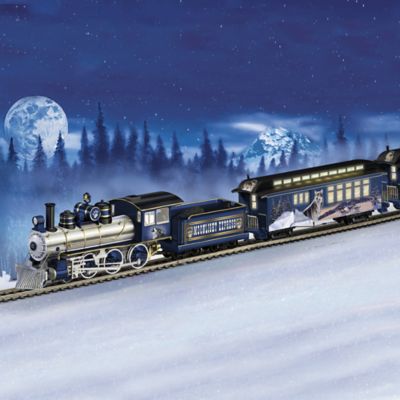 Al Agnew's Silver Moon Express
- If you want to celebrate the Winter Solstice in a truly "wild" fashion, you might want to take a look at the Hawthorne Village Silver Moon Express Subscription Plan Train
. This subscription train has wintry blue and silver colors, as well as paintings by Al Agnew that feature wolves and snowy landscapes. (For a closeup of the locomotive click here.)
This train became unavailable in 2012, but is back, possibly in limited quantities. (Actually all of these trains are limited editions, but some are more limited than others.)
If you're interested in Al Agnew's work, or if you decorate with a silver and blue theme at the holidays, this is a unique opportunity. Please click on either photograph for more pictures and details.
By the way, if you prefer diesel trains, an HO Agnew-inspired Spirit Of The Wild Express
is also available.


---
Hawthorne Village Train Accessories - As different as they may look, all of the Hawthorne Village trains on this page are mechanically interchangeable. They are On30 trains, built on frames made by the Bachmann Corporation, the world's largest model train manufacturer. The track they all use is the same EZ-Track that Bachmann sells for HO trains, so if you order more than one Hawthorne Village train, you can use the track from each set interchangeably. You can also always get extra Bachmann EZ-Track pieces as well as Bachmann parts and service on your Hawthorne Village trains. A few extra track pieces and other Hawthorne Village accessories you may find useful are provided below for your convenience.
Electric Train Crossing Gate and Block Signal Accessory Set Adds Realism to your Collectible Electric Train Set! Exclusive! - This miniature-scale crossing gate and block signals will add interest and charm to any Hawthorne Village train. Meticulously handcrafted by master artisans, each detail is flawlessly re-created, from the red-and-white striped train crossing gate arms to the white crossing signs. The crossing gate's arms even lower automatically when the train passes over the track! This is also an excellent value. Click on the link below to purchase or for more information.
The Winter Electric Train Crossing Gate and Block Signal Accessory Set! - Like the summer version above, miniature-scale crossing gate and block signals will add interest and charm to any Hawthorne Village train. The crossing gate's arms lower automatically when the train passes over the track! Click on the link below to purchase or for more information.
Electric Train Track Accessory Keeps Your On30 or HO Scale Train Set on Track - One of the true joys and excitement of owning an electric train set is in enhancing - and growing - your display by adding quality accessories. Hawthorne Village's exclusive HO scale "Track Multi-Pack" Train Accessory Set affords you almost 8 feet of additional track, including four 9" Straight Track and six 9" Radius Curved Track. Perfect for any Hawthorne Village train sets. All you need to do is snap them together. Click on the link below to purchase or for more information.
Expand your Empire! - If you have already added the Track Multi-Pack Train Accessory Set to your railroad, this set will allow you to add a figure eight shape to your railroad. This set includes a 90-degree Crossing, four 2-1/4" Straight Track and one 18" Radius Curved Rerailer. Click on the link below to purchase or for more information.
Handsome Model Train Set Display Case Shows off Your Train Collection in Heirloom-quality Wood Cabinet with Glass Doors! - Provide an elegant home for your beloved model train collection in this heirloom-quality model train set display case, exclusively from Van Hygan & Smythe. Custom-designed in the tradition of fine European craftsmanship, its classic style is enhanced by solid hardwood construction with a rich walnut-finish. Hinged glass front doors reveal three 3-1/4" deep hardwood shelves, perfectly sized for your limited-edition train collections. Magnetic door closures minimize dust, and gleaming brass-finished hardware adds an elegant touch. Click on the link below to purchase or for more information.
How To Help Our Site for Free: If you find our tips, explanations, and recommendations helpful when picking out a product, Please Bookmark This Page and come back through it when you're ready to order. It costs you nothing, but it helps us know what pages you find useful, and it helps our advertisers know who to support. And that, in turn, helps us provide more useful resources. Thank you!
---
In addition, the O-Scale Accessories page includes many relatively inexpensive details such as bridges, fencing, and stations, that will bring life to any O-Scale or O-Gauge railroad.
Home Pages

Reading Index Pages

Buyer's Guide Pages
---
Note: Family Garden Trains™, Garden Train Store™, and Big Christmas Trains™ are trademarks of Breakthrough Communications (www.btcomm.com). All information, data, text, and illustrations on this web site are Copyright (c) 1999, 2000, 2001, 2002, 2003, 2004, 2005, 2006, 2007, 2008, 2009, 2010, 2011, 2012, 2013 by Paul D. Race. Reuse or republication without prior written permission is specifically forbidden.
Big Christmas Trains(tm) is a participant in the Amazon Services LLC Associates Program, an affiliate advertising program designed to provide a means for sites to earn advertising fees by advertising and linking to amazon.com.
---
For more information, please contact us.