Hawthorne Village(r) features a collection of subscription trains that run on HO track (so sometimes they're mistakenly labeled "HO" trains). However the trains are large enough to look good with O-scale accessories, such as most Christmas village buildings. The Hawthorne Village trains use reliable mechanisms and other parts from Bachmann On30 trains, so they run like "champs," and service will always be available. But the Hawthorne Village designers add artwork and other detailing that make these trains much more attractive and collectible.
Update, 2017 - Bradford Exchange, who distributes the Hawthorne Village products shown on this page has recently been forced by the attorney generals of several states (including Ohio where I live) to stop letting folks in Ohio and other states recommend products we like. Apparently it's sales tax thing.
That said, Bradford Exchange has also stopped commissioning new train collections from their original supplier, so it's only a matter of time before the trains I really liked disappear forever. Several already have. So I'm keeping this page alive as long as it serves our readers, and not one day longer.
I can't say with certainty how long any train on this page will be available. I can say with certainty that the vast majority of folks who order these collections are delighted with them, and 100% of the people who waited too long to order are disappointed.
Note About Subscription Trains Because these are subscription trains, each piece is actually considered a separate purchase. (The price advertised on the Hawthorne Village web site is the cost of each collectible piece.) In the first shipment, you receive the locomotive, which is an exceptional value. Then about a month later, or when the next piece is available (whichever comes first), your order for the next piece is automatically processed. That means that you can still get the locomotive before Christmas if you order early enough, so you'll have something to wrap up and put under the tree. The locomotive is also a great value, so the recipient won't be disappointed, even when he or she learns that the rest of the train is still to come. On the other hand, there is a good possibility that some of these trains will sell out between now and Christmas. If there's one you really want, don't assume that it's "safe" to wait until later - I have not heard from one reader who was disappointed with his or her train, but I have heard from many readers who were disappointed because they put off ordering a subscription until it was too late. These are delightful trains and a great value, so order your favorite soon if you don't want to miss out! For details about how a subscription train works, please click here.
Note about Suppliers: While we try to help you get the products you want by recommending suppliers with a good record of customer service, all transactions between you and the supplier you chose to provide your trains or other purchases are governed by the published policies on the supplier's web site. So please print off any order confirmation screens and save copies of invoices, etc., so you can contact the appropriate supplier should any problems occur. (They almost never do, but you want to be on the safe side.)
How To Help Our Site for Free: If you find our tips, explanations, and recommendations helpful when picking out a product, Please Bookmark This Page and come back through it when you're ready to order. It costs you nothing, but it helps us know what pages you find useful, and it helps our advertisers know who to support. And that, in turn, helps us provide more useful resources. Thank you!
To see more pictures, to learn more about any of the trains, or to purchase any of these subscriptions, please click on the photographs or the "Buy Buttons," where they appear.
---
Thomas Kinkade Christmas Train and Villages - If you want the most charming train ever made for Christmas villages, consider Hawthorne Village's Thomas Kinkade(r) Christmas Express Subscription Plan Train. This is the first authorized collectible train to feature paintings by reknowned artist Thomas Kinkade. It has been so popular that two more Thomas Kinkade(r) trains were offered and both sold out almost immediately. Hawthorne Village ordered more of this set, so we were able to recommend them several holiday seasons in a row, but we have no idea how much longer subscriptions will be available. The first "issue" of this subscription includes the locomotive and tender, an excellent value.
Please click on either photograph for more pictures and details, as well as a list of accessories that would add interest and charm to any Christmas village using this train.
Please click on either photograph for more information and details about this train.
---
Coca Cola(r) Christmas Train and Village - Coke(r) collectors rejoice! Hawthorne Village's(r) first Coca Cola Collectible train outsold all expectations and has been unavailable for over two years. I have spent a great deal of time telling folks that bad news, so believe me, I'm glad to have good news for a change. The Hawthorne Village(r) Coca Cola Collectible Christmas Train Subscription is back in a new limited edition series, with vintage Coca Cola Santa graphics and many charming, vintage details. The first "issue" of this subscription includes the locomotive and tender, an excellent value. This will grace any mantle or Christmas Village, but it will be especially "at home" in the limited edition Coca Cola Christmas Village collection which is shown on the same page.
Please click on either photograph for more pictures and details, as well as a list of accessories that would add interest and charm to any Christmas village using this train.
---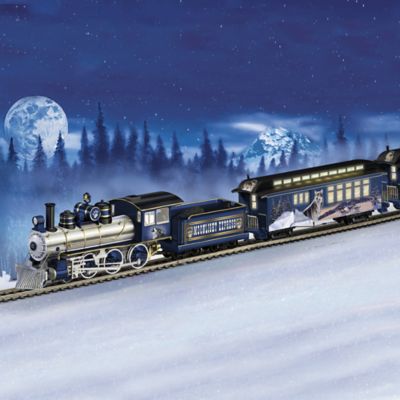 Al Agnew's Silver Moon Express
- If you want to celebrate the Winter Solstice in a truly "wild" fashion, you might want to take a look at the Hawthorne Village Silver Moon Express Subscription Plan Train
. This subscription train has wintry blue and silver colors, as well as paintings by Al Agnew that feature wolves and snowy landscapes. (For a closeup of the locomotive click here.)
This train became unavailable in 2012, but is back, possibly in limited quantities. (Actually all of these trains are limited editions, but some are more limited than others.)
If you're interested in Al Agnew's work, or if you decorate with a silver and blue theme at the holidays, this is a unique opportunity. Please click on either photograph for more pictures and details.
---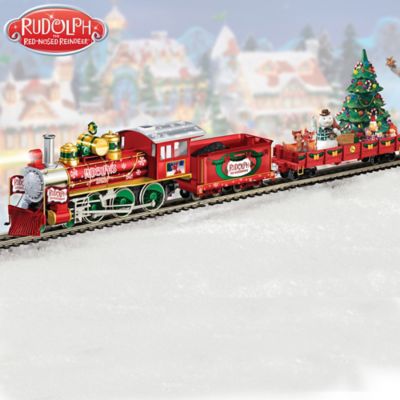 Rudolph's Christmas Town Express Train Collection
The exclusive Rudolph the Red-nosed Reindeer(R) Collectible ON30 Scale Electric Train Set Makes Unique Christmas Decoration - Last year, Rudolph's(r) Christmas Town Collectible Village delighted thousands. Now collectors and Rudolf-lovers will be thrilled by this first-ever Rudolph the Red-nosed Reindeer collectible! Let Rudolph guide this ON30 scale electric train set to your house for Christmas.
This set really is a one-of-a-kind. When it became unavailable for several months in 2012, there were some disappointed would-be customers. But it's worth remembering that one day it will become unavailable permanently.
It includes a FREE power-pack and nickel silver E-Z Track(R) elevated track set, a $60 value.
Please click on either photograph for more pictures and details.
The matching Rudolph The Red-Nosed Reindeer Christmas Village Collection - is available as a Super Starter Set
, so you can get enough pieces to set up a whole village all at once. Your collection continues to grow afterwards, but this helps you give your village a huge "jump start."
---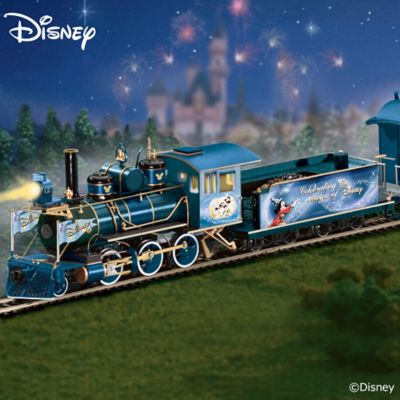 The Magic Of Disney Express Electric Train Collection
celebrates all of your favorite Disney® characters, including Mickey Mouse (as the Sorceror's Apprentice), Snow White and the Seven Dwarfs, and many more. Each issue in this collection has exquisite detail and charming features that will attract attention and interest for years to come. The locomotive headlight and the coaches are lighted as well, making this train a real "attention-grabber" when it runs around an illuminated holiday village such as the ones shown on this page.

Please click on either photograph for more pictures and details.

---
Note: If you buy a collectable train with the idea of running it around your Christmas tree, you might want to take special precautions so that someone who missteps near the tree doesn't accidentally kick an irreplaceable locomotive across the room. (Don't ask me if this warning is based on personal experience.) One possible solution might be to start a subscription of the Hawthorne Village train you like the most, and at the same time buy a Bachmann On30 train set that you can afford to leave on the floor or let the kids run. (And when the kids go to bed, and everyone else leaves the house, you can get out your Hawthorne Village train and run it--they run on the same track.)
---
Hawthorne Village Christmas Train Station Accessory Subscription Plan
Finally, a Christmas Train Station set to go with the Hawthorne Village Christmas trains. This is a subscription set, like the Hawthorne Village towns. But instead of a whole town, this set models the "hustle and bustle" of a small-town railroad station at Christmas. We admit, we don't know everything about this set, as it's still very new, but we do know that the first installment is a charming early-to-mid-1900s station covered with "snow" and decorated for Christmas. According to the Hawthorne Village people: "Beginning with a fabulous model train station, every detail is handcrafted by master artisans, from authentic looking stone work and rough hewn flooring, to festive Christmas decorations and realistic train sound effects! You'll be delighted with all the special features in future issues too, from a switching station with a Santa who pops out as your train passes by, to an illuminated station platform with a FREE "Commuter Friends" figurine! These are must-have accessories to any prized train collection. And you won't find a finer value anywhere. Hurry, order now!
To order, or for more information, please click on the photograph at the right.
Track - By the way, I've been getting questions about track. The trains above come with an oval of track that is about 38" x 56". In most cases, you receive a circle of track with the second issue, the power supply with the third, and the straight track with the fourth. If you can't wait to run your locomotive as soon as it arrives, these trains actually will run on just about any HO track. If you have a lot of that in the attic, you might consider using that instead of the track that comes with the train. If you DON'T have a pile of HO track somewhere, we have listed some track accessory kits farther down that you can order. Or if you live near a hobby shop, you may easily add additional pieces of Bachmann EZ Nickel Silver Track at any time. The Bachmann EZ Track #44501
is an exact replacement for the curves that come with the train sets. #44511
matches the straight pieces.
In addition, Hawthorne Trains is offering extension track packages that are listed below.